The Thyroid hormone helps regulate metabolism produces thyroid gland (thyroid) located in the neck. Improper functioning of the gland causes overproduction or deficiency leads to the desired amount of hormone imbalance in the body that can cause problems with eyes like a ballet to the loss of eye sight.
When there are signs of thyroid-related changes, to evaluate the manner of functioning of the gland and treat the volume of antibodies accordingly. Period of activity increased thyroid usually go on for two years or more and requires tracking the disease and drug therapy by a doctor endocrinologist. During drug treatment will be patient tracking an ophthalmologist and sometimes, according to disease progression and severity was evident, may be recommended that the surgical procedure to reduce pressure, decompression of the chimney (Orbital Decompression).
Dr. Briscoe experience in treating and monitoring people and young adults who suffer from the problem of changes in the thyroid and was evident both at stabilizing the patient's condition and eye surgery to correct prominent thyroid damage.
Decompression of the chimney – Orbital Decompression
Decompression of the chimney is a surgical procedure performed in order to expand the orbital space and creating an area where the eyeball can 'enter' in the space created as part of more comprehensive treatment induced obvious thyroid disease.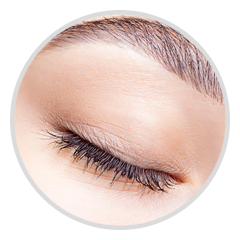 Interested in counseling
about Thyroid?
There are several indications that will point to the need for surgery to correct obvious:
• prolonged pain as a result of compression of the orbital tissues.
• optic nerve compressed by swollen muscles at the top of the Orbit, where there is a domain area. Treatment is taken into account even in cases where alternative treatments such as steroids and radiation therapy have failed.
• a situation in which the cornea is exposed as a result highlights of the eye (Froftozis), causing inability to complete closure of the eye, corneal dryness and in severe cases ulceration.
• bulging eyes up to a situation where they can drop when you look up and thus, can lids close behind the eye.
• eye muscle surgery which aims to improve double vision can result in deterioration in patients who die eye, if necessary in decompression surgery of the chimney before the eye muscle surgery.
• In some patients with obvious treatable withdrawal of upper and lower eyelids by extending the tendons of the muscles of the eyelid. Procedure for extending the eyelid as the solution does not allow the results are ideal when the disease is active, because the obvious is the result of disease, thyroid and is the main cause of the garden eyelid receded and there is no decompression surgery prevention of chimney.
• Also, not less important than the aesthetic factor. Decompression surgery to repair the chimney of ballet aesthetic eye is necessary in order to improve the appearance as possible. Many eye surgeons in the field oculoplastics see the chimney of decompression surgery reconstructive and cosmetic procedures .
During the ballet's getting surgery to reconstruct the patient's appearance and bring it at the nearest possible before the disease, although efforts are rarely perfectly these concepts because of thyroid activity. It should be noted that the results of surgical decompression and safety performance improved considerably over the years
The symptoms of thyroid-borne illness
Expressionless stare and dry eyes are the first symptoms of the disease. Early signs include swelling of the eyelids and tissues around the eye. The eyes become red and the membrane which is above the white of the eye may be swollen and it adjusts the appearance of "Jelly" from the lower eyelids. Swelling of the fat around the eye and eye muscles may "push" the eye forward and thereby create a show. Level of the bulge varies and may be in one or both.
​
Swelling of the eye muscles responsible for movement of the eye may cause a state of double vision. In severe cases, dry cornea may appear ulcer and visual defect.
Protrusion of the eyeballs, eye ballet and other symptoms of this disease may also appear if the test results produced by the amount of hormone in blood thyroid abnormalities. Most patients with these symptoms, have the A levels – normal of this hormone in the blood
Appointments:

072-3969917

| 050-4090966
Tel Aviv, Assuta, Ramat ahayal | Afula: Yitzhak Rabin 18